Is SOYFIP Real ?
The answer is
YES!
We have been

REAL

since the day we

started saving children

online
and
ALWAYS

will be!
---

*Update*
After the publication of this review, we have been in correspondence with SOYFIP regarding the issues mentioned in the review that shed light of suspicion on the organization. However, SOYFIP has furnished proof that they indeed work with law enforcement in order to nab suspected pedophiles. Therefore, we believe that we can state with confidence that SOYFIP is NOT a scam, as they seem to genuinely work towards the cause of catching pedophiles.
https://www.scamadviser.com/scam-reports/other-scams-hoaxes-and-frauds/3891/is-soyfip-a-scam-website-review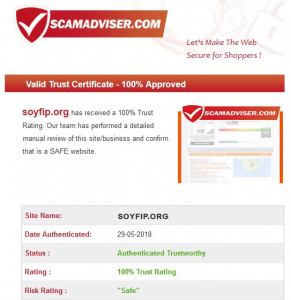 Is the Website from a 'Trust Approved Business' ?
Valid concerns about fraud and identity theft have made users more hesitant to share personal information online. Independent third party research proves that without a Trust Seal you are losing out on sales.
Display the ScamAdviser Trusted Site Seal and consumers the confidence to use your site. The seal can be placed on any or all pages within a domain that has been verified independently by our